Welcome to The Perfect Place to Find Great BUSINESS OPPORTUNITY see alibaba.com/akinola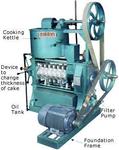 PALM KERNEL OIL MACHINE 1TUNE/DAY

http://akinola8.itgo.com/fsguest.html
Getting Rich QuickFrom My Site!

REAP MILLIONS FROM WASTE
Take advantage of these petrochemical materials flying across the streets, roads, highways all over the states of Nigeria popularly known as pure water nylon. The equipment needed for the reprocessing/recycling these waste products are;


Automatic Washing Machine for used nylon.


Nylon Recycling Machine (waste grinder)


Various Plastic Moulds


Scaling and Bagging.

We can as well help in building up your factory and install a capable generating plant, also install water production plant for factory use. In addition, your final product is a branded nylon material. The use of this material is very lucrative as you may decide to use it for producing plastic products or sell it as raw materials to plastic making companies. If there be need for you to produce plastic, that means you will need the following plants;


Plastic Grinder.


Injector Molding Machine.


Air Pressure Compressor.
This means you can produce plastic products like; table spoons, plastic hangers, children toys, plastic cup, plates,and bottles e.t.c.
For more information, contact Engr. Sam Akinola on 01-8180076 http://akinola8.itgo.com/fsguest.html